I really don't know where to start so I'll just start with where I find myself right now.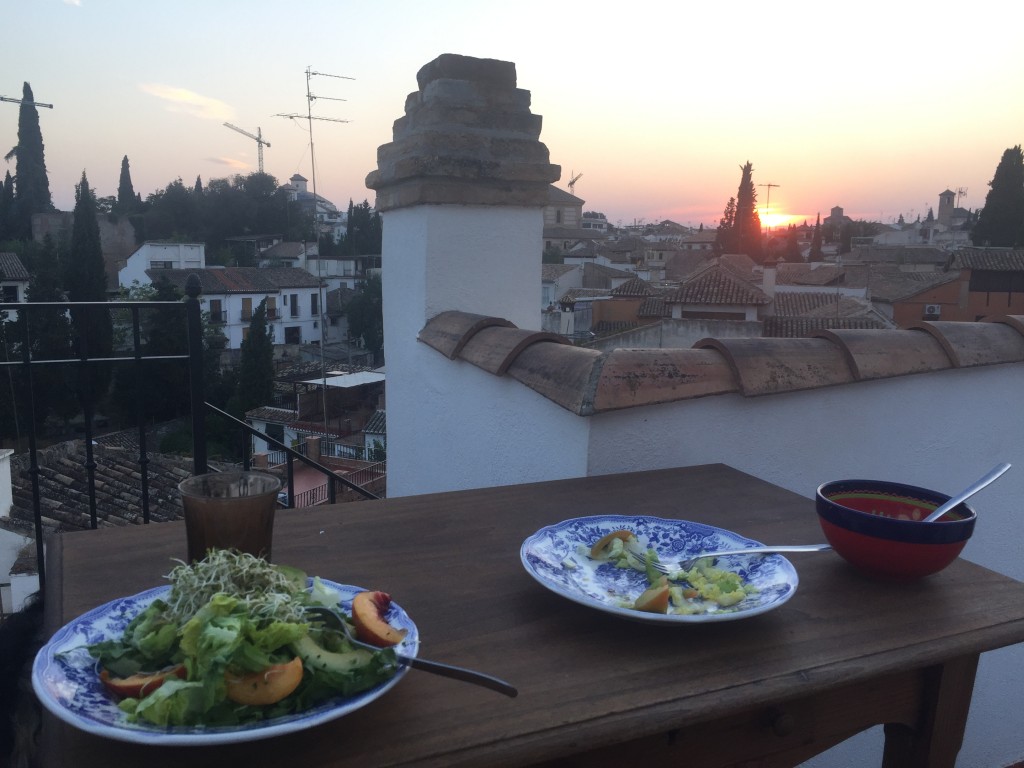 This is the small, "viewing" terrace on the roof of our house, here in Granada.  With every word I type, the sky is getting a shade darker and the glow of the setting sun a deeper shade of rose.  There's a light breeze, very welcome after several weeks of intense heat.
We live in the medieval, Moorish neighborhood of the Albayzin, and what with trudging up the hill every day after our morning activities, we've come to understand the importance of the siesta, and why Spaniards here disappear into their homes for the greater part of the afternoon.  If we venture out to eat at 8 pm, we find the restaurants still closed.  I like these surprises.  It's why we came, after all.  To be surprised.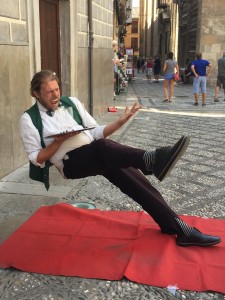 When we came across this man, he was motionless.  When a coin clanked in his pail, he abruptly changed position, then froze again.  I couldn't help yelping each time.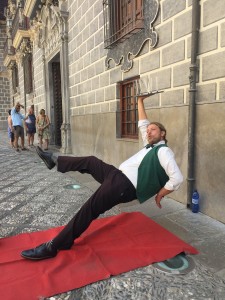 Actually, I know where I'd like to start.  With the kindness of the people here–that is my favorite surprise of all.  The warmth and generosity I encounter with the most fleeting of interactions.  I don't know that any one example will quite convey it.  The fact that my daughter can take a week of ballet classes or Spanish language classes, and they still haven't asked for payment.  They know it will come.  Or when we ate at the restaurant and it was time for them to bring us the rest of our meal to take home, they gave us fresh servings instead.
I have always liked to say to people, when something they tell me gives me a surge of pleasure, "That makes me very happy."  Here it is a common expression.  "Me alegra."  I have the most surprising sense of homecoming whenever I hear it.
Now, the sun has set,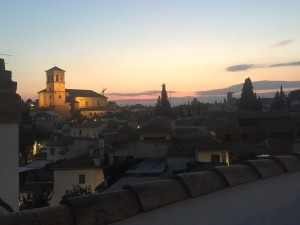 and the Iglesia del Salvador, a converted mosque from the thirteenth century, is starting to glow.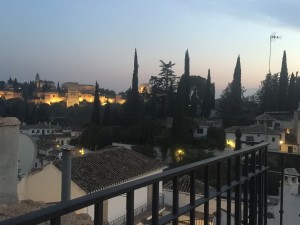 The famous Moorish palace, the Alhambra, over to my left, is also magically illuminated.  Still, what I like best is the terrain of roofs and terraces spread out below me.  No streets are visible because they are so narrow (most of them pedestrian alleys), and a cat can make its way across the city, going from rooftop to rooftop.  Or a person, especially if she's chasing after her cat who has escaped and is finding her way back to Seattle.  But that's another story.  It's actually getting chilly now so I'll head inside and say bye for now.